VALUE FOR MONEY MARATHONS IN OUR LOCAL AREA.

When we founded our club in 2010 there had been too few opportunities to run marathons in the North East. Instead members had to travel huge distances and pay out ever increasing amounts, often with little in return, to complete 26.2 miles. Now we have to contend with paying out ever increasing amounts for events in our area. The NEMC intends to rectify this situation by promoting events nearer home via our affiliation to the Association of Running Clubs (ARC). Our philosophy is to organise no frills, no fuss, low cost, scenic marathons for local runners in our local area. Our Club aims to be the focal point for local marathoners to share ideas and experiences, provide mutual support and encouragement as well as provide companionship and cost-sharing for more distant events. It is open to anyone regardless of age or ability and no matter how many marathons they've completed. Newcomers to marathon running are especially welcome. For more information email Melanie.
OUR NEXT EVENT: Mo Marathon Charity Event 5th November, 8am.

Enter online here: https://www.sientries.co.uk/event.php?event_id=3898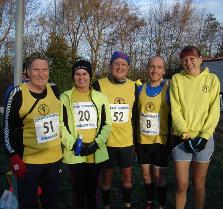 CLUB KIT:Vests and Tshirts in small, medium or large are £8. Hoodies £18. Email Melanie to order.
Remembering Mick Sherriff, one of the Club's founder members, who sadly passed away on November 29th 2012.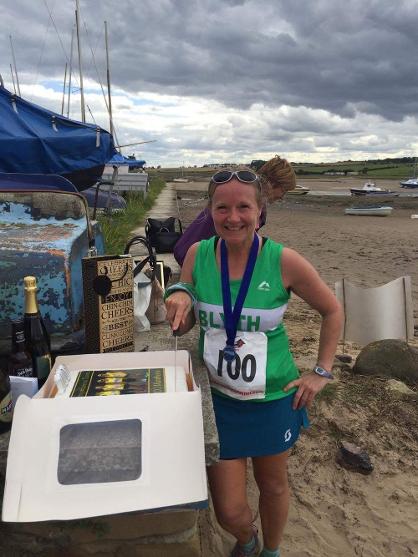 Davina, after her 100th marathon at the Northumberland Coastal
WINTER WONDER RUN 3 15th January 2017 9:30
Enter online https://www.sientries.co.uk/event.php?elid=Y&event_id=3168

Winter Wonder Run 1
Please note that registration and race HQ will be in the building next to the Boathouse tomorrow as the Boathouse is being used for a course. Registration starts at 9:00. Please don't arrive earlier than this!

Money raised in May with our Banks of the Tyne Marathon.

Entries for Winter Wonder Runs 2016/17 open!
https://www.sientries.co.uk/series.php?series_id=180
See Winter Wonder page for more details.

Town Moor Results
Thanks to everyone who entered, hope you had a good day. Great big thanks to all of our marshals. I hope we got everything sorted out after a few initial hiccups! Provisional results are on the Town Moor page with instructions for sending changes. Thanks again everyone!

To join us:
Only £10 per year and members will receive £2 discount on the entry fees for each of our NEMC organised club events and reduced entry fees to many other running events. Subs are payable on Jan 1st each year. Sub can now only be paid at SiEntries. To join go to :
https://www.sientries.co.uk/event.php?elid=Y&event_id=3012
NEMC COMMITTEE: Chairman: George Routledge Secretary: Melanie Horan Treasurer and Kit: Ian Richardson Social Secretary: Davina Lonsdale
Social Media:
Gary Thwaites
Rachel Grant