VALUE FOR MONEY MARATHONS IN OUR LOCAL AREA.

When we founded our club in 2010 there had been too few opportunities to run marathons in the North East. Instead members had to travel huge distances and pay out ever increasing amounts, often with little in return, to complete 26.2 miles. Now we have to contend with paying out ever increasing amounts for events in our area. The NEMC intends to rectify this situation by promoting events nearer home via our affiliation to the Association of Running Clubs (ARC). Our philosophy is to organise no frills, no fuss, low cost, scenic marathons for local runners in our local area. Our Club aims to be the focal point for local marathoners to share ideas and experiences, provide mutual support and encouragement as well as provide companionship and cost-sharing for more distant events. It is open to anyone regardless of age or ability and no matter how many marathons they've completed. Newcomers to marathon running are especially welcome. For more information email Melanie.
OUR NEXT EVENT: Winter Wonder 1, 17th Dec, 9:00am, Exhibition Park https://www.sientries.co.uk/event.php?elid=Y&event_id=4200

To join us:
Only £10 per year and members will receive £2 discount on the entry fees for each of our NEMC organised club events and reduced entry fees to many other running events. Subs are payable on Jan 1st each year. Subs can now only be paid at SiEntries. To join go to :
https://www.sientries.co.uk/event.php?elid=Y&event_id=3012
NEMC COMMITTEE: Chairman: George Routledge Secretary: Melanie Horan Treasurer and Kit: Ian Richardson Social Secretary: Davina Lonsdale
Social Media:
Gary Thwaites
Rachel Grant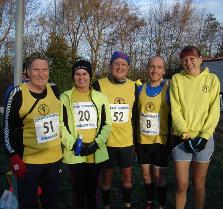 CLUB KIT:Vests and Tshirts in small, medium or large are £8. Hoodies £18. Email Melanie to order.
Remembering Mick Sherriff, one of the Club's founder members, who sadly passed away on November 29th 2012.
Running safety
Here is a site you might find of use…
Races now open: Leas, Druridge Bay, Gibside, Gibside 24 and Northumberland Coastal.

Congratulations on 50 marathons Mike Trant.

Mo Marathon 2017 raised £1000 for the Movember Charity. Thank you for entering.

EVENTS CALENDAR
17th December: Winter Wonder 1, Exhibition Park, 09:30 ENTRIES OPEN.
31st December: Winter Wonder 2, Exhibition Park, 09:00 ENTRIES OPEN.
14th January 2018: Winter Wonder 3, Exhibition Park, 09:00 ENTRIES OPEN.
11th February 2018: Winter Wonder 4, Exhibition Park, 09:00 ENTRIES OPEN.
25th February 2018: Leas Marathon and AGM, South Shields, staggered start ENTRIES OPEN. Email Melanie.
18th March 2018: Winter Wonder 5, 09:30 TBC
8th April 2018: Druridge Bay Marathon and Half Marathon, Druridge Bay Country Park, 11:00 (full) 12:00 (half) ENTRIES OPEN.
29th April 2018: Hexham Track Marathon, Wentworth Track, 09:30 TBC
16th June 2018: Gibside Marathon and 24 hour event, Gibside, Gateshead, 17:00 ENTRIES OPEN.
1st July 2018: Northumberland Coastal Marathon and Half, Alnmouth, 09:00 (full) 10:00 (half) ENTRIES OPEN.
2nd September 2018: Hamsterley Marathon and Half Marathon, Hamsterley Forest, Durham, 09:30 ENTRIES OPEN.
28th October 2018: Town Moor Marathon and Half, Exhibition Park, 09:30 TBC
Medical cover for all of our events is provided by www.frontlinemedical.co.uk